"Type E" Bearings - Overview
---
---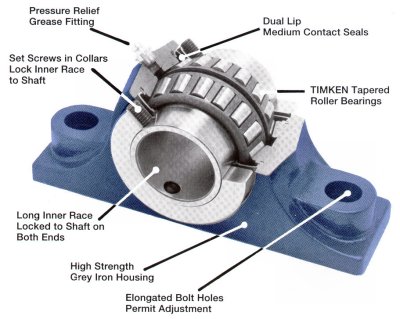 Heavy Duty Royersford "Type E" Bearings come in a wide range of sizes and styles offering many advantages including high speed suitability, ruggedness, positive locking to the shaft, and at a competitive price.
The high strength grey iron housings are designed to be compact without sacrificing ruggedness. They are available in two and four bolt base Pillow Blocks, Square Flange, Piloted Flange and Take-Up styles; all mounting surfaces are fully machined to close tolerances. Both ends use positive locking ductile iron collars to securely fasten the inner race to the shaft. Two set screws are used for additional holding power.
Timken Tapered Roller Bearings are used exclusively in Royersford "Type E" Bearings. These superior quality bearings are made from vacuum degassed steel which gives races and rollers unsurpassed load handling capabilities and longer useful bearing life. Load distribution is balanced over a long inner race giving the bearings a high radial and thrust load capacity suitable for most applications. The arrangement of the Timken rollers and races enables a slight angular misalignment to be handled.
Snap rings and shims are used for proper race adjustment on sizes thru 3". For sizes 3-3/16" thru 5" an adjusting nut is used. Bore tolerance is +.001" - .000" for 3" and smaller bores; and +.002" - .000" for bores larger than 3". Royersford "Type E" Bearings are prelubricated, adjusted and sealed at the factory. Just slip the bearings on the shaft. Danger from bearing failure caused by dirt or contaminants during installation is eliminated. Shaft ready bearings save time and expense as well as the possibility of premature failure present when housings must be cleaned, adjusted and lubricated during installation. Reduced expenses on installation and long life enable overall operating benefits that do not exist with other type bearings.
Dual lip medium contact seals....built in at each end of the bearing during factory assembly....offer the advantage of a primary lip that prevents loss of lubricant and a secondary lip for dirt and dust exclusion, both before and after installation of the bearing on the shaft. Sealing efficiency is maintained throughout the full range of self-alignment. Dual locking collars act as rotating fingers to keep contaminants away from the seals, further increasing the seal efficiency.
Royersford "Type E" Bearings are carried in warehouse and distributor stocks in popular transmission shaft sizes from 1-3/16" to 5".