R2000 Bearings Overview
---
---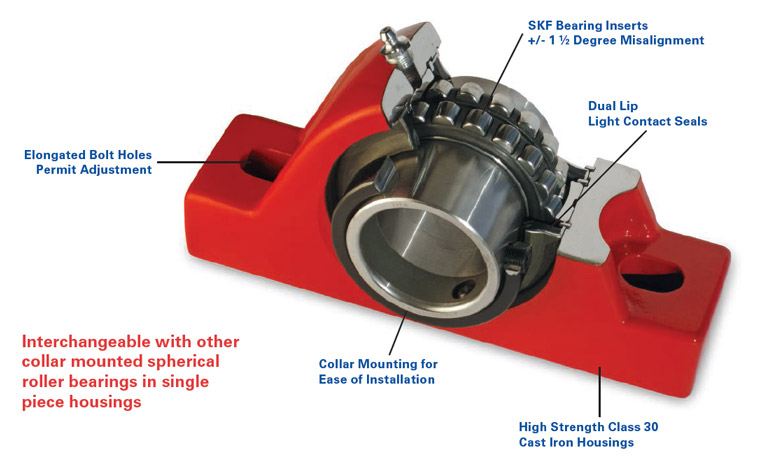 Royersford R2000 Mounted Spherical Bearings are suitable for a wide variety of applications. They work extremely well in situations where a high capacity alignable bearing is required. They are available in a wide range of shaft sizes and a variety of mounts.
SKF® spherical bearing units are used exclusively in the Royersford R2000 series of bearings. They are capable of handling heavy radial and axial loads, running and static misalignment and high operating temperatures.
These bearings are completely assembled, sealed & lubricated at the factory so they are ready for use right from the box. The self-aligning feature provides for rapid mounting with a minimum of adjustment. The high strength grey iron housings are designed to be compact without sacrificing ruggedness.
The R2000 are available in two and four bolt Pillow Blocks, Square Flange, Piloted Flange and Wide Slot Take-up styles. All sizes and styles are available in both non-expansion and expansion types. The expansion units have the capacity to move .100". Both can handle misalignment up to ± 1 ½ deg.
All R2000 bearings come with a specially designed double lip seal that prohibits the entry of contaminants, retains lubrication and is self-purging. Royersford R2000 Bearings come in shaft sizes from 1 7/16" thru 5" and are available from warehouses and distributor stocks throughout the United States and Canada.
Spherical Roller Bearing Nomenclature